Details

Written by

Keith

Category:

Blog

Hits: 2128
The young girl I met in the slums of Manila did accept my invitation and attend church. I asked her if she had eaten that day and she replied: No, sir, I am very poor.

Debbie and I bought her dinner and invited her to return to church. I will pray about her soul, and somehow find a way to continue to touch this live God put in my path.
After coming to Cebu today, Debbie has told me clearly: Thank you for picking the right country in which to serve Christ - I couldn't take the poverty and chaos of this culture. The poverty impacts me deeply and my life will probably never be the same. Every expenditure that I now have is in light of what it could do for those that struggle with daily existence.
Details

Written by

Keith

Category:

Blog

Hits: 2032
I went into a slum in Manila today with a Philippino pastor. I met these three runaways living in a shack. We have a deal - I will take them to church Saturday night, take their picture and send it to them. Too many heartbreaking stories, yet Jesus gives us great joy and hope.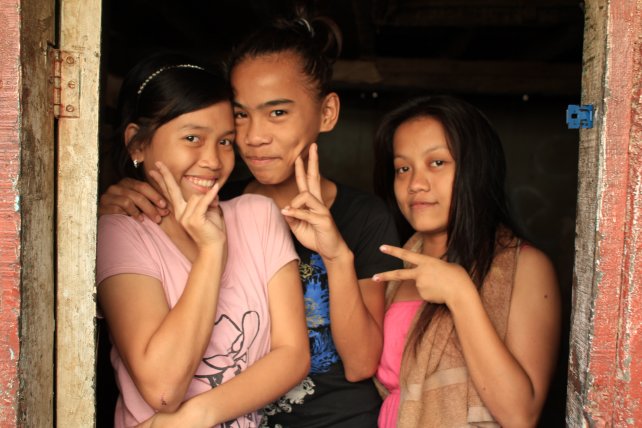 Details

Written by

Keith

Category:

Blog

Hits: 2215
On Monday our team from Germany arrive, minus Marco (whose passport is limitted to travel in Europe). We are bummed that he was not able to make the trip with us. None the less, we press on.
The goal of our first day is simply to get an impression of what evangelistic tools are transferable to us in Germany and maybe someday even to Europe. Getting a coach to get you to another level is so important, and we as a church are asking God that He would help us to discern and be teachable.
Here are the initial photos from the first day. Some 1300 young college students attended this session. Hundreds made a decision for Christ and an early morning baptismal service is planned.
To say the least, our team is overwhelmed with the response they have witnessed.
Warning: No images in specified directory. Please check the directory!

Debug: specified directory - https://keithgandy.com/images/photos/manila01
Details

Written by

Keith

Category:

Blog

Hits: 1970
It is 11:15 PM and Debbie and I are at the airport awaiting a flight from Shanghai to Manila. Getting to this point was a little eventful.
To begin the day we went to the highest observation tower - the top of the Shanghai Financial Center. Although the view was obscured due to limitted visibility over the city, the building itself is breath-taking.
We attended church with our hosts Todd and Shandy, then grabbed a bite to eat - mexican food, of all things. A few hours together, prayer and then departed.
This is where the fun begins. We catch a taxi to the subway station. Then we head out on the 50 minute ride to the airport. At least that was the plan. At nine o'clock we were escorted off the subway, because the line closes down at 9 PM. Local entrepreneurs mascerade as taxi drivers and not knowing the system, we fell for it. A man grabbed our bags, headed out of the subway station and then darted into a back alley.
Debbie is not feeling so well at this point, but we stand in the dark and bargain with the driver, not knowing if anything is to be believed. We settled on 80 RMB and he throws our bags in the trunk.
The drive is at breakneck speeds, Debbie is stressed. The sort of it - he drove us right to the counter. We jumped out, everthing was fine and I was glad to tip the guy.
Now we leave a city we have grown to like immensely. On to Manila and the ministry of Greg Lyons.
Bad news just before we left. One of our team from Germany did not have a valid passport that would allow travel outside the European Union. Bummer. Marco just called and informed us that he can't leave the country.
Details

Written by

Keith

Category:

Blog

Hits: 1915
Still pretty exhausted from the heavy walking the previous day, we stayed in Shanghai today and visited the people's square and main shopping boulevard - Nanjing Road.
You will find the architecture very modern, stylish and extremely diversified. The governmental buildings are tastefully done, even though they do appear to have a certain political flair. Outside one of the buildings was a sole dissenter - a woman holding a speech to a crowd of no one. Pointed toward the building, she held her manuscript and in tasteful form, read her issues. It did not appear that the wheels of government were overly concerned.
The promenade is a collection of western style shopping centers. It appears to be more than just shops, but a whole collection of malls - possibly a dozen malls, each with another thirty stores.
Dinner was superb at Madame Zhus' kitchen. Once again we had a wide assortment of dishes - marinated beef, steamed fish, Peking duck, bean curd, steamed broccoli.
The impressive skyline of Shanghai was magnificent. Buildings are lit until 10PM and make a true easel of colors. Todd and I went out with temperatures at 0 celcius, but the wind chill made shooting photos desiring a warmer evening. Memories that will last a lifetime.
Warning: No images in specified directory. Please check the directory!

Debug: specified directory - https://keithgandy.com/images/photos/shanghai05