Details

Category: Books
Published: Wednesday, 05 January 2011 05:30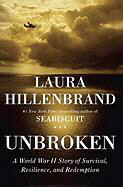 Reading a book that is well-written is simply a pleasure. Unbroken, from Laura Hillenbrand, is one of those books.
It is the compelling story of Louis Zamperini, an olympic runner in the 1936 Berlin Olympics (along with Jesse Owens), who subsequently becomes a POW in a Japanese prison camp. His harrowing story of ditching a rescue plane at sea, the 47 days adrift in a couple of flimsy life rafts with two other survivors, their ultimate capture, torture and malnutrition will have you longing for the next chapter.