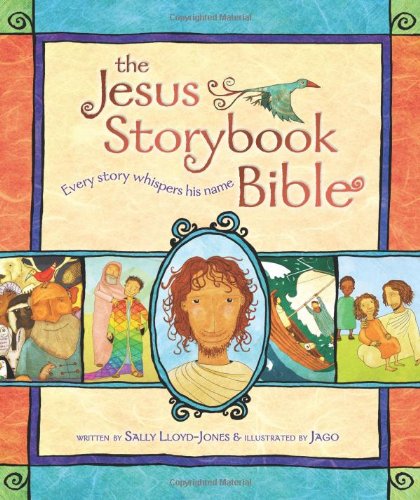 Sally Lloyd-Jones has written a fabulous storybook bible for children and the stories tell the story of redemption. "Every story whispers his name."
Following my stroke in July, 2013 it became a mission for me to read this edition to my granddaughter, Emily. I wanted her to have heard her grandfather's voice, should anything happen to me. Secondly, I began working hard on regaining my speaking skills - intonation, inflection, etc. The entire project - 350 pages - 2.5 hours reading time - are complete.
I have chosen to make them readily available for download.
The CD downloads are ISO files that you can download (400mb zip file containing a 800+mb iso each) and burn onto 800mb CDs - I will "come to your home" and read the Old Testament to your child / grandchild. I give it away - I dare not sell it, for fear of doing anything illegal or unethical. I claim no copywrite to MS Lloyd-Jones book or to the reading. Of course an audio edition of that book is readily available (maybe a choice that you might want to consider).
Listen to a sample - page 62, the story of Abraham being asked to sacrifice Isaac. And yes, the child's voice to be lightly heard in the background is Emily.
This is my love gift to Emily and our future grandchildren. I desire that they might love God's love story of a very needy mankind, to learn to love His Word early in life. And maybe, just maybe our daughter Lisa will get a short break from time-to-time, while "pops" reads to Emily. That is a win-win for everyone.
You can find the Storybook at Amazon here.
 Download the Old Testament. Make sure you also get the NT Audio.
The can also be found on the download section > digital gifts.