One of the things that will shape or even determine the scope of your ministry will be what John Maxwell calls 'the Law of the Lid.' In other words, if you stop growing personally, so will the ultimately capacity of your impact. The good news is that there are resources available to assist you in your ability and skill set.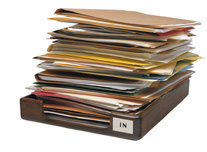 One of the areas in which you will find an ever increasing requirement is the amount of attention required by your ministry areas. A cross cultural church-planter will administrate agency reports, supporter communication, calendar and date booking, brainstorming and planning events, church(es) administration, governmental requirements, study and preparation paperwork, family duties. And these are just a few of the big ticket areas.

Irregardless of a person's ability to multitask or delegate, it is essential to expand present capacity, in order to prevent personal burnout, ministry bottleneck, frustration in co-workers and family.

Every administrator should adopt a smart organizational system, because of at least six critical reasons.

1. Redundant items should be templates
Any tasks that is repeated in the future is a strong candidate for a template or form. Do you have a meeting with key leaders? Then a list of departments and leaders can be listed as bullet points ready for copy into your new document.
Do you blog? Then map out the flow that you follow as a guideline.
Videographer? Some form of storyboard map will help you design your shoots before arriving on scene, plus allow you to track your footage once at the edit bay.
Explain baptism, pre-marital counseling, discipleship theme repeatedly? These all areas to consider creating a template, whether it be in printed form, mp3, downloadable video or a Facebook message.

2. Get it off your mind.
A short pencil is better than a long memory. I heard that a long time ago and it still makes perfect sense.
The author David Allen is one of the gurus of time management: getting things done. That work is a standard and available in print, kindle, or audio books. His main message is short and simple:
Move towards a system. Doing so frees up your mind, because you no longer carry all the tasks that you need to accomplish in you memory. You will constantly free up RAM memory. And that is a good thing.

3. Clarity in direction comes from precise articulation.
I am repeatedly asked if I am a lone ranger type person. The only good answer that I know for that question is this - the job description precludes being a lone ranger. In an expanding ministry it is all about team ministry.
You will need some way to communicate effectively to the team and co-workers. If they do not receive accurate and trustworthy information, they cannot be expected to be 'in formation.' Your system aids precise articulation, therefore aiding direction towards your vision.

4. A system is transferable.
Let's think of the unthinkable. What would happen to your family or ministry, if you are incapacitated in some tragic way? Would the decision makers have access to the information in your head? Get that stuff on paper, if for no other reason than protecting the ones you love.

5. Prioritizing
Everyone will say 'no' to something or someone. Are you in control of that decision, or are emergencies and urgencies controlling your life?

6. Your mind is freed from the tyranny of forgetfulness.
It is true freedom not to have to remember everything, but know that you have the assurance of a safety net. That is the benefit of a system.

Tomorrow, I deal with resources that I am presently implementing to aid in streamlining administrative tasks.