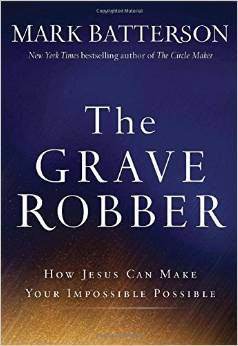 Mark Batterson's newest, The Grave Robber, will be a great addition to preachers, who seek insights and anecdotes on the seven signs in John's gospel.
It will also be a great inspirational read for everyone that struggles from time to time for reason of ... - you fill in the blank. Batterson makes you realize that God has you at a special place in time in order to maximize His glory and your effective impact and happiness.
One of my favorite lines used repeatedly: "Sometimes God shows up. sometimes God shows off."
My favorite quote is the one Batterson presents from Dallas Willard: "Grace is not opposed to effort, it is opposed to earning. Earning is an attitude. Effort is an action." Good stuff. 
All kinds of rich anecdotes from chemistry to Duck Commander. I think you will enjoy this read, no matter what your entry point is.