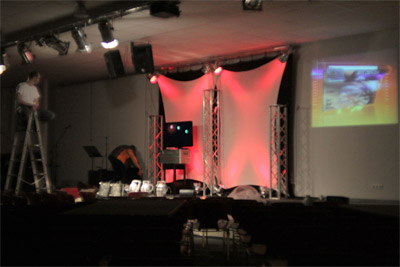 It was on Christmas Eve 2004 that we moved into our new digs - tripling our floor space and giving us a capacity of a few more seats than 300. Things were still rough for that first service - no carpet, three building phases lay in the future.
Time flies. Our stage design team has done well in creating topic driven sets that aid in graphically supporting the message.
It was time to install an additional projector to aid in line-sight for those in attendance. That meant that we would have to move the band to the middle. Which meant that we would have to extend the stage. Which meant that we would have to change the seating arrangement. Get the picture?
Staying fresh simply requires work. Fresh eyes.
But with it comes a fresh momentum that comes with 'new'. It means that we are willing to part with some things that we have always done, but rethink in order to deepen impact. Hopefully your ministry is being revisitted from time to time and you find the courage to make radical changes.